Moving to Indianapolis: A Guide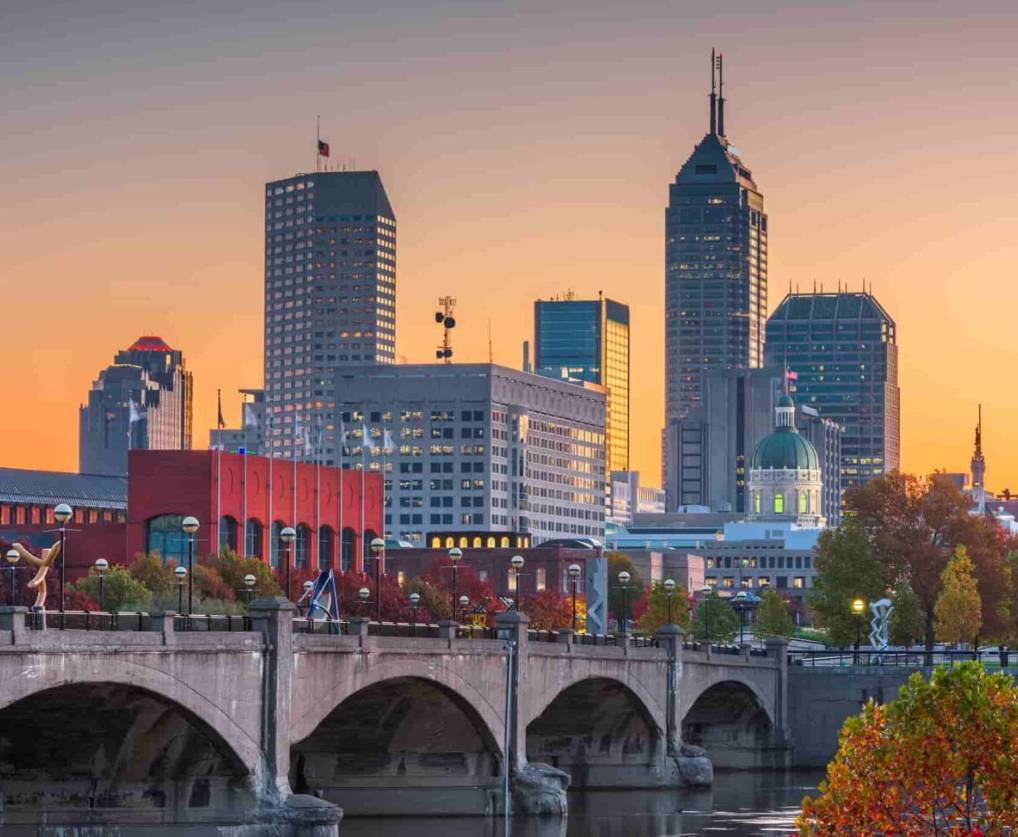 The vibrant city of Indianapolis has something for everyone, from world-class museums to professional sports. With affordable living costs and plenty of activities to enjoy, many find Indianapolis, Indiana a great place to live. Whether you're looking to move to the area for work or personal interest, the city of Indianapolis will not disappoint.
Things To Do in Indianapolis
Known for its passion for basketball, speed racing, and manufacturing, there is plenty to discover in Indianapolis. Whether you snag tickets for a NCAA tournament, visit the Indianapolis Motor Speedway, or grab a bite to eat downtown, you'll find the entertainment options endless.
Parks and Recreation in Indianapolis
With plenty of greenspaces to enjoy including over 200 parks and trails, outdoor enthusiasts are bound to enjoy Indianapolis. Riverside Regional Park, Grassy Creek Regional Park, and Riverside Promenade offer scenic views along the banks of the White River. Indianapolis's biggest park, Eagle Creek, offers 3,900 acres of green space and 1,300 acres of water for your enjoyment.
Indianapolis Sports and Entertainment
Lucas Oil Stadium—the home of the Colts—draws thousands of visitors each year and is home to many other events, too, including concerts. It's also one of the rotating hosts of the NCAA men's basketball tournament finals. For NBA fans, catch a Pacers game at Gainbridge Fieldhouse.
However, basketball isn't the only sport of interest in Indianapolis- baseball enthusiasts can pay a visit to the Indianapolis Indians' ballpark. Or, if you're a soccer fan, Indy Eleven offers soccer fans a great experience showcasing USL games.
Indianapolis Food and Drink Scene
There's no shortage of great food in Indianapolis. Expand your palette and visit a variety of local restaurants with different food categories including: Italian, German, Cajun, Latin, European, and much more. With award-winning local restaurants in the area such as St. Elmo Steak House, Cafe Patachou, and Milktooth. Whether you're looking for a spot to eat breakfast or dinner at, you're bound to find a local favorite nearby.
Shopping in Indianapolis
Indianapolis has been a longtime shopping destination with several indoor and outdoor shopping centers throughout the city. The biggest and most luxurious, the Fashion Mall at Keystone, is home to several high-end retailers. Longtime Indy residents will regale you with tales of shopping downtown at Circle Centre, which is just a short walk from the Indiana Convention Center and hotel. Other malls, like Lafayette Square Mall and Castleton Square, offer shoppers name-brand stores and dining.
Living in Indianapolis
Although the heart of Indianapolis has a lot of activities and attractions, there are also suburban neighborhoods around Marion County for folks attracted to the small town feel. The suburban areas around town are great for families, and those who just want a slower pace. Plus, Interstate 465 loop that surrounds the city makes it easy for commuting into the city.
Neighborhoods in Indianapolis, IN

When moving to a new area, it can be difficult to know what areas or neighborhoods are best to live in. Indianapolis has a great selection of neighborhoods for young adults, new families, and retired couples. A few popular neighborhoods in the area include:
Carmel: One of the fastest growing communities in the Indianapolis metro, Carmel sits just 20 minutes from downtown and is home to all sorts of cultural and civic amenities. It's recognized for its public schools and has been named one of the safest places to live and raise a family. Other suburban enclaves around town include: Fishers, Zionsville, and Noblesville.
Broad Ripple: Looking for something with a more laid back vibe? Broad Ripple Village is a cultural district that's six miles from downtown. Located just minutes from Butler University, Broad Ripple is home to parks, dining and shopping, and a network of greenways that cross and outline the neighborhood. It's popular with folks from all walks of life, from empty nesters to young professionals.
Fountain Square: This is another cultural historic area that offers access to plenty of arts and culture, including some of Indy's best restaurants.
Old Northside: Old Northside offers large, historic homes and a part of the city steeped in history. Known as one of the city's most friendly neighborhoods, you're bound to feel at home in Old Northside.
Indianapolis Employers and Industries
As the capital city of Indiana, Indianapolis is home to the state's seat of government. However, it is also known for providing manufacturing and automotive jobs. One of the state's biggest employers, pharmaceutical company Eli Lilly, calls Indianapolis its home base. Other large businesses include Anthem Insurance Company and Angi Home Improvement.
Indianapolis Schools and Universities
Whether you're looking for schools for K-12 for your child or considering attending college in Indianapolis, you'll find plenty of great options to choose from. Many colleges in the area are recognized for their programs, and are within close proximity to downtown. A few schools in the area include:
Butler University
University of Indianapolis
IUPUI
Franklin College
Marian University
Indianapolis Public Schools
Shortridge High School
Indianapolis Metropolitan High School
Rent Your Indianapolis Storage Unit Today
As you start the packing and moving process, make sure you have a plan in place. From getting organized to coordinating moving logistics, moving can become overwhelming fast. Thankfully, at Storage of America, we have packing and storage tips handy to help ease your transition. 
Need a space to temporarily store items during the move? We have a variety of storage units available to store items from small boxes to large furniture. Browse through our unit size guide or contact our team today to get started!
More From Storage of America