Drive-Up and Indoor Storage Units: What's the Difference?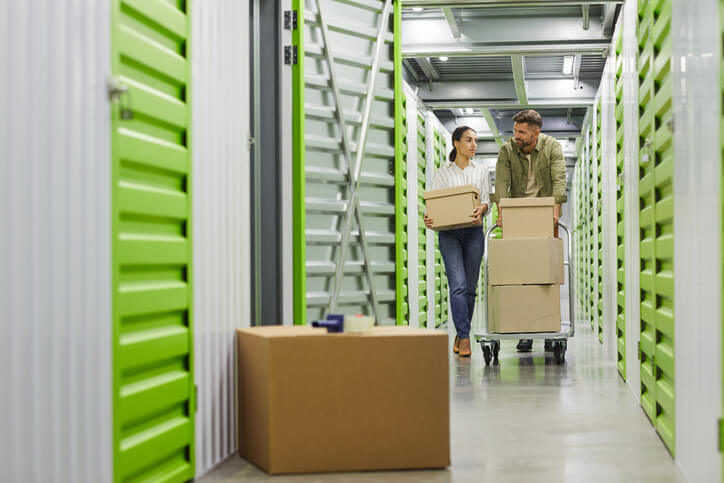 Storage comes in many shapes and sizes from climate controlled storage to boat and RV storage to office suites and beyond. It's often easy to rule out the units that won't work for you, but when you're down to the final two choices, it can be a little harder to decide. The decision tenants often have to make when renting a storage unit, is if they should opt for drive-up or an indoor unit. While you often get the same features whether your storage unit is indoors or outside there are some differences that you'll have to consider before making a choice. So drive-up storage access versus indoor storage units. What's the difference?
Drive-Up Storage Unit Access
Drive-up storage is a storage unit that offers a convenient way to unload or load your storage unit—just pull your vehicle or moving truck up to your storage unit and start unloading! These units tend to be more affordable than indoor units and are great for storing items that won't see a lot of wear and tear from fluctuating temperatures.
If you're a business owner that relies on quick, in-and-out access, especially of heavy appliances, furniture, or machines, then you may want to consider choosing drive-up storage access.
Landscaping businesses, for example, are one business that could really benefit from drive-up storage. It takes a lot of space to store all of those lawnmowers, weed whackers, snowblowers, and other major equipment needed to fulfill the responsibilities of those jobs. The ability to quickly pull up and swap out equipment based on what the client needs done is invaluable in this circumstance.
For tenants who plan to use self storage for personal reasons, drive-up storage can also be a great place to store an extra personal vehicle or motorcycle or even store yard equipment like rakes, water hoses, gardening tools, and more.
Cons of Drive-Up Storage
As previously mentioned, drive-up storage is best for items that won't be damaged if exposed to fluctuating temperatures for a long period of time, but this cannot be stressed enough. It's not very common to find drive-up storage units that are also equipped with climate control so if you have items that you're worried about being damaged, an indoor storage unit might be best for you. 
Items that are likely to sustain damage due to extreme temperatures include:
Wood and leather furniture
Electronics
Photos and artwork
Antiques and heirlooms
For availability of climate-controlled storage near you, just locate your nearest Storage of America Facility. From there, you'll be able to see available storage units and features to make sure you get the best unit for everything you need to store.
Indoor Storage Unit
The indoor storage unit shares many of the same benefits as drive-up storage access, in that they are both highly secure, easy to access, and kept clean. However, indoor storage units are units that are actually in a larger building which typically means that these units are housed in multi-floor buildings and are typically equipped with climate control.
While indoor storage units tend to be more costly than a unit with drive-up access, indoor units are a bit more universal in the sense that they can accommodate items that do and don't need climate control. In addition, indoor units mean you don't have to worry about the weather outside because you're dry in a facility moving your items around in your storage unit. In addition, many indoor storage units offer a covered loading area, perfect for moving trucks or businesses, needing to unload a lot of items at one time.
Cons of Indoor Storage
While there are many convenience factors to indoor storage, it's not for everyone. When you have an indoor unit, you'll typically have climate control and while that's a plus, it is a more costly convenience especially if you plan to store items that don't really need it.
If you have an indoor storage unit, you may run the risk of getting a unit on an upper floor. That's not necessarily a bad thing as most indoor facilities have an elevator to accommodate units on upper units, but if you happen to rent at a facility that only has stairs, you might not use your unit to its full capacity in an attempt to limit the number of heavier items you have to store in your unit.
Should I rent a drive-up or indoor storage unit?
There are plenty of reasons to choose drive-up and indoor storage, but your budget likely requires you to choose one or the other. At the end of the day, choosing the unit that's best for you comes down to convenience, what you plan to store, and features directly related to storing your items.
So if, for example, you need a climate controlled unit and you rent a unit on the upper floor of a facility that doesn't have an elevator, you'll need to consider what you plan to store. Perhaps moving a couch into this type of unit isn't the best idea. At the end of the day, you'll want to account for the available unit and amenity options at your desired facility and have a rough idea of what you want to store in order to make the most informed decision. Knowing how much each unit can hold is also a factor to consider.
Find the Right Storage Type at Storage of America
Whether you're trying to create more space in your home or looking to use storage as a way to grow your business, Storage of America wants to help! We understand how stressful clutter can be, which is why we offer a variety of storage options designed to suit your needs and storage features to make storage easy!
Plus with our flexible month-to-month leasing, you won't have to worry about being locked into a long-term contract. With storage facilities in across the Midwest, you're sure to find the right storage unit for you, whether it be an indoor or drive-up storage unit. Don't wait to kick clutter to the curb, visit a facility near you to rent your self storage unit today! 
More From Storage of America