How To Set Up a Home Gym in a Small Space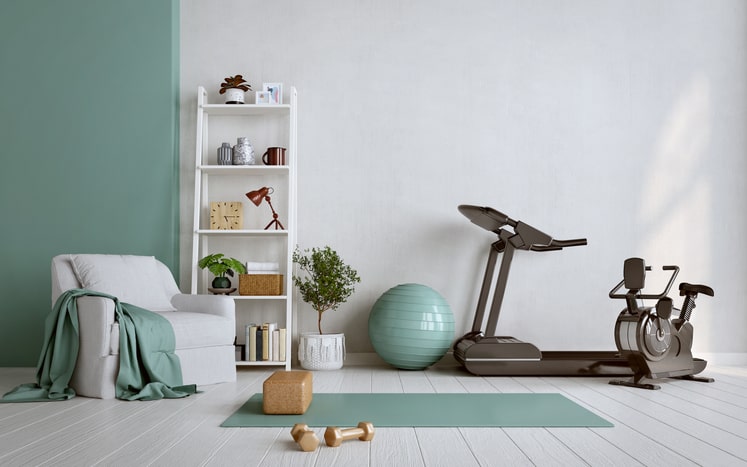 Many find that working out at home is more practical than paying for a gym membership. As gym memberships can get pricey and require a commute, creating a home workout space is a better alternative for many. However, if you live in an apartment or do not have a spare room for a home gym, it can be an additional challenge. The storage professionals at Storage of America will walk through how you can better organize your home to create a functional workout space.
Where To Begin
It's easy to get stuck trying to reorganize and free up space in your home. Luckily, we've put together some tips and tricks to help you get started. First, you'll want to choose a dedicated workout space in your home. This space can have a dual function—for example, a home office and a workout room, or utilizing the living room and moving furniture when you're ready to work out.
Home Gym Organization Ideas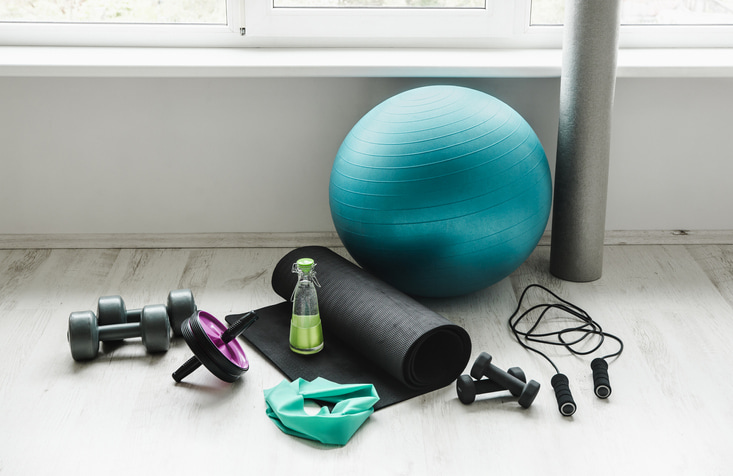 Organizing your belongings can help free up space in your home to create your dream home gym. With a wide variety of storage organizers out there, you can easily maximize space in your home. Whether it's utilizing furniture with built-in storage, buying storage cabinets that also match the decor in a room, or even using a storage unit for residential storage, you'd be surprised how much additional space you'll have for even an apartment home gym.
For example, if you plan to utilize your home office space, invest in a desk that has wheels or that can fold up to move out of the way. Alternatively, you can buy a treadmill or use a workout mat that can fold up and be stowed away in a closet. If you do have a full room committed to a home gym, utilize storage organizers to store towels, small equipment, and mats while not in use. This can be especially helpful if you're creating a basement gym.
Best Home Gym Paint Colors
How you choose to decorate your home gym is up to you. However, there are studies that show that color can affect our mood. For instance, if you prefer to have a calming presence where you work out, choose a shade of blue or lavender. These colors have been known to bring a sense of calm or composure for many.
On the other hand, many find the color orange to be an energizing color. Orange can evoke a sense of warmth, fun, and comfort, perfect for a workout. Or, you can go the simple route and paint the room white. Having a neutral color can avoid any distractions and is perfect if you need to use the room for a different purpose in the future.
Home Gym Speakers
Many find listening to music while working out can help boost energy and good vibes. If you're looking for speakers that can do the job while getting your workout in, we have some suggestions. Brands like JBL, Bose, and Sonos are great options for producing high-quality soundwaves, and they each offer different price ranges, depending on what you're looking to spend.
Home Gym Lighting Ideas
Setting up your home workout space near natural light can help boost your mood and motivation. If you don't have the option to set up a workspace in a well-lit area, set up bright lighting. Utilizing cooler, bright lighting can help increase energy and mimic natural light. Overhead lights can help brighten up the full room easier, but if that's not an option, placing floor lamps or table lamps in the corners can help brighten up the room.
Free Up Space in Your Home With Storage of America
When you're ready to free up space in your home but don't want to sacrifice any belongings, self storage is an ideal solution. Especially in the colder months when you don't want to do outdoor exercises such as biking or walking, it's essential to have space in your home for a good workout. Storage of America has a wide variety of storage unit sizes and advanced storage features for a hassle-free storage experience. Browse our storage unit size guide or find a Storage of America storage facility near you today to get started!
More From Storage of America