How Storage Can Ease Your Spring Cleaning Woes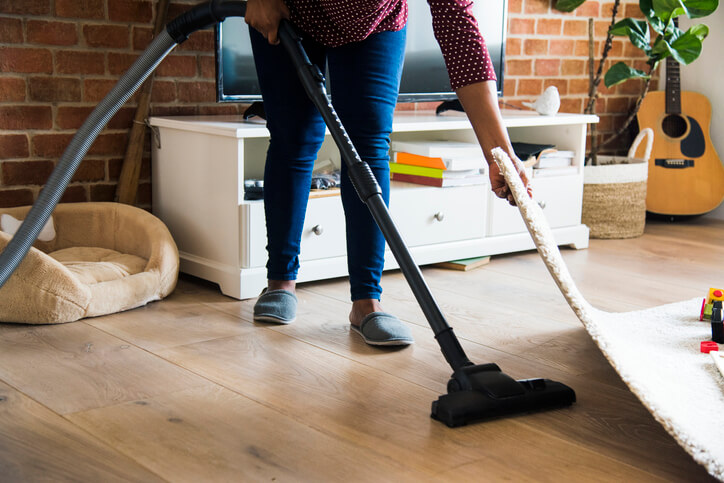 Spring cleaning season is in full swing. That means it's time to tackle some of those home maintenance, organization, and cleaning tasks that you may or may not have been putting off. Spring is a great time to use the new burst of energy you get from the increase in sunny hours during the day to clean your home in preparation for summer. Let's look at some spring cleaning tips and how renting a storage unit from your nearest Storage of America facility can smooth out the process.
Why is spring cleaning important?
Spring cleaning can be a big boost to your mental health. Studies have shown that clutter can overwhelm the senses and encourage anxiety and depression. In addition, dirty surfaces and dust can impact air quality in your home. You can breathe deeper and be more relaxed by using spring cleaning to improve your quality of life.
Make a Spring Cleaning Checklist
It's tempting to go through your house like some kind of cleaning dervish, wiping down a countertop here or mopping a bathroom there, but it makes much more sense to make a list of tasks to tackle. The most important part of spring cleaning is realizing that you don't have to do everything in a day.
In fact, spreading the work out over a period of a few weeks can go a long way toward making everything more manageable. Most people tend to get overwhelmed at the amount of cleaning they think they need to do, and that's what causes stress in the first place and can quickly kill your motivation altogether.
What types of tasks should my spring cleaning checklist include?
You can tackle your list in any way you choose, but it might be helpful to separate it out by room. That way, you can focus on the following steps:
Declutter spaces first: Organization and decluttering can help you determine your next steps. You can't vacuum a floor that's piled high with boxes or dust bookshelves that are overstuffed with paperwork. Items that get relocated as part of a decluttering effort can go several places, but we're partial to placing them into a self storage unit until you can really decide what you want to do with them.
Clean ceiling fans, moldings, baseboards, and walls: Ceiling fans and molding collect lots of dust (and the occasional spider web), so it's important to start from the top and work your way down. A pillowcase or trash bag can help collect dust from these high areas. Vacuum brush attachments are handy, too.
Dust all surfaces: Bookshelves, dressers, tabletops—these are all prime places for dust to collect. Don't forget to wipe down books and decor that live on these shelves. Hanging photos and clocks can collect dust, too, so give them a good wipe down.
Wash bedding, curtains, and linens: Give your sheets a good wash, and take your duvet or comforter to the dry cleaners. You can clean any collected dust on your curtains by placing them in the dryer with a damp towel.
Clean windows and screens if possible: By cleaning your windows with warm soapy water, you can make a big difference in the quality of light that comes into your home. Don't forget to take off the screens, clean them with a hose, and leave them in the sun to dry off. It's also a good time to replace any screens that have large holes.
Vacuum carpets and rugs, using shampoo when possible: High-traffic areas of your home can trap a lot of smells, dirt, and dust over time. A carpet cleaning machine can often help the dingiest carpet look fresh. Rent one or have a cleaning company use a steam cleaner on them.
Clean faucets and fixtures with vinegar: If you soak a paper towel in vinegar and place it over fixtures for an hour, you'll be surprised at the difference it makes. For showers with low water pressure, consider using a rubber band to keep a vinegar-filled freezer bag in place around the showerhead.
Don't neglect closets, garages, and other storage spaces: Spring cleaning is the perfect opportunity to pack away sweaters and cold weather gear to prepare for sunny days to come, but it's also a good time to evaluate what's in your closets. Anything you don't typically get a lot of use of can be donated, sold, or even placed into storage. Other seasonal stuff, like holiday decorations and fall/winter landscaping tools , are great candidates for being placed into spring storage.
Self Storage can Help You Declutter Your Space
As part of your spring cleaning efforts, consider renting a self storage unit for any additional items or furniture that doesn't have a designated space in your home. Even a small storage unit can act as a temporary staging area for yard sales, donation efforts, or even seasonal rotation of clothes and other items. Reclaim closet and garage space by thinking about how spring self storage can actually turn into a year-round benefit.
How do I find self storage this spring?
Finding springtime self storage has never been easier, especially if you live near one of Storage of America's convenient Midwest storage facilities. We offer storage units along with great amenities, including climate-controlled storage and vehicle storage, designed to streamline your storage experience. Plus, our team of friendly and knowledgeable storage pros can answer any storage question you might have.
Rent your self storage unit as part of your spring cleaning efforts today.
Whether you're in the middle of a spring cleaning spree or about to get started, self storage can help maximize the space in your home and reduce stress as you try to put everything back in its proper place. Visit us today to learn how a self storage unit can simplify the process of cleaning and organizing your home this spring!
More From Storage of America