How To Choose a Storage Place for Your Boat This Summer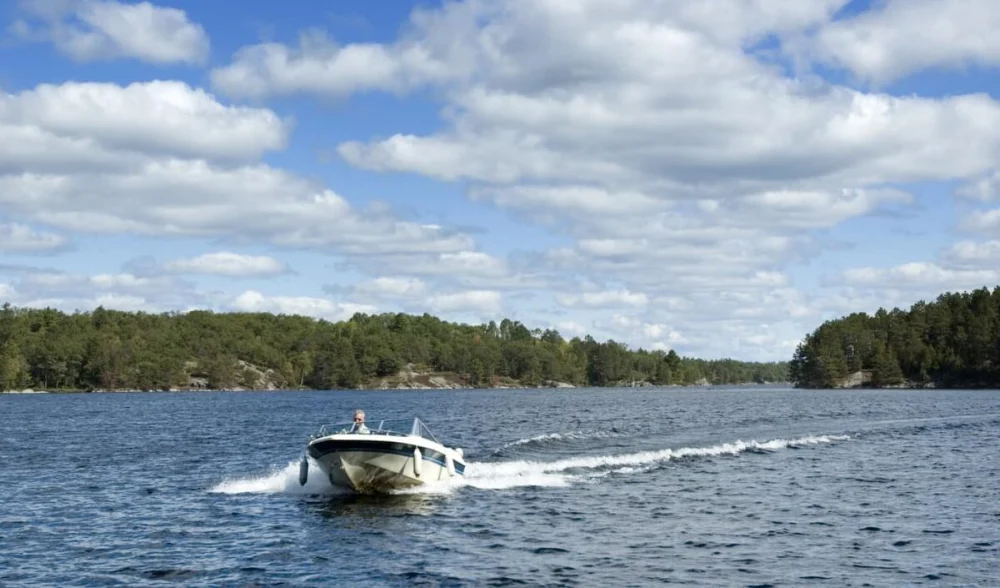 It's that time of year: The water is calling. Feel the lift of the boat beneath the waves, the wind in your hair, the mist in your face. That's the good life, isn't it?
We certainly think it is. There are few summer activities we find more enticing than an afternoon on the boat, cruising along, soaking in the sunshine, and enjoying the company of some of our favorite people. That's what summer should be for.
If this is your first summer with a boat, congratulations! We hope you have a blast. If it's not your first summer, you already know that once the exciting part ends, you need to put your boat somewhere safe until the next time you slip it into the water.
Finding that space can be a bit tricky if you're new to this, which is why we at Storage of America want to give you a primer on storing boats, answering such questions like whether you can park a boat on the street and the safest place to store a boat once the summer season ends.
We're going to provide a quick, intuitive breakdown of the best storage location practices for your boat, so you don't need to do the frustrating legwork of figuring everything out for yourself. We have your back.
Where Can I Park My Boat?
Generally speaking, if you're asking where you can park your boat, you'll find yourself with three broad answers: marina parking, at-home storage, and self storage.
Let's dive into each of those.
Marina Parking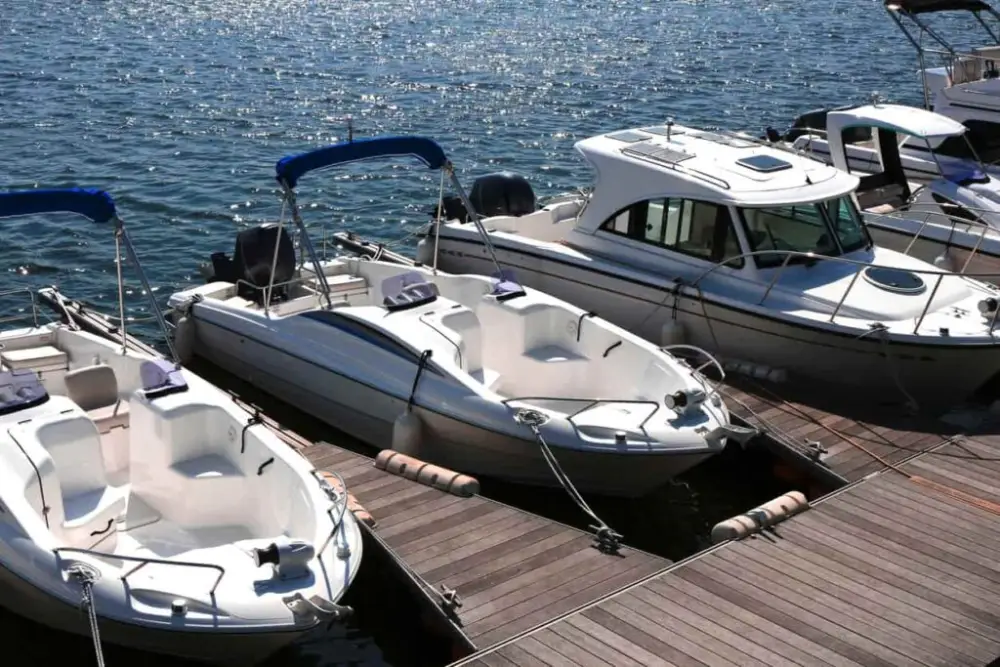 Sometimes the most convenient option is to leave your chariot at home on the water. A marina is a dock maintained by a daily staff that watches over and protects boats in the equivalent of waterside parking spaces. In the United States, a dock slip (also known as "slip" or "berth" rental) for a boat can have an annual cost between $12 per foot and $250 per foot, though it usually averages around $50 per foot. Depending on the exact service used, you may be required to have a membership, which could affect pricing based on the location or size of your craft.
The benefits of marina parking are obvious. In many ways, it's the fastest and most convenient option. For one thing, you never need to bother hauling around your boat. It's already at your destination, and you don't need to perform extensive care, because the on-site service will take care of that for you (probably—confirm the specifics before signing anything).
The downside is that this is by far the most expensive option, which is why many people will forego the convenience of marina parking in favor of storing boats elsewhere.
At-Home Boat Storage
Ideally, if you want to seek at-home storage, you'd have a large garage, pole barn, or ample amount of private land to store your vehicle in/on/out of sight.
These options are best because they hide the vehicle, preventing it from disrupting any surrounding neighbors and minimizing the chance of theft. The greatest perk of this boat storage option, however, is the cost. Unlike marina parking, you have to do all the work and supply all the storage space yourself, but because of that, you spend next to nothing—at least, not any more than you'd already be paying for that space.
But it does mean grappling with the limitations of your personal space, as well as the possible rules or laws against this type of activity, such as the issue listed below.
Can You Park a Boat on the Street?
If you're wondering whether or not you can park a boat on the street, the answer is a colossal "maybe, but maybe not," depending on where you live.
The chief concern is that you may live in a neighborhood with a homeowner's association (HOA) that prohibits storing boats long term in a driveway or on the road. Generally, HOAs see outdoor recreational vehicle storage as tacky and a nuisance to neighbors, so if you are able to get the boat into a backyard (assuming you have one), you may be able to sidestep this problem. Even then, without an HOA, you're likely to garner some ire from your neighbors if a boat is out there partially blocking a shared space. In some places, a city ordinance even outlaws this practice, forcing you to relocate your aquatic vehicle elsewhere.
If you're lucky, you can keep your boat in your driveway as long as it's covered, but that's not a promise everywhere, so make sure to do your research before committing to a course of action. We'd hate for you to be hit with avoidable fines.
Summer and Long-Term Boat Storage With Self Storage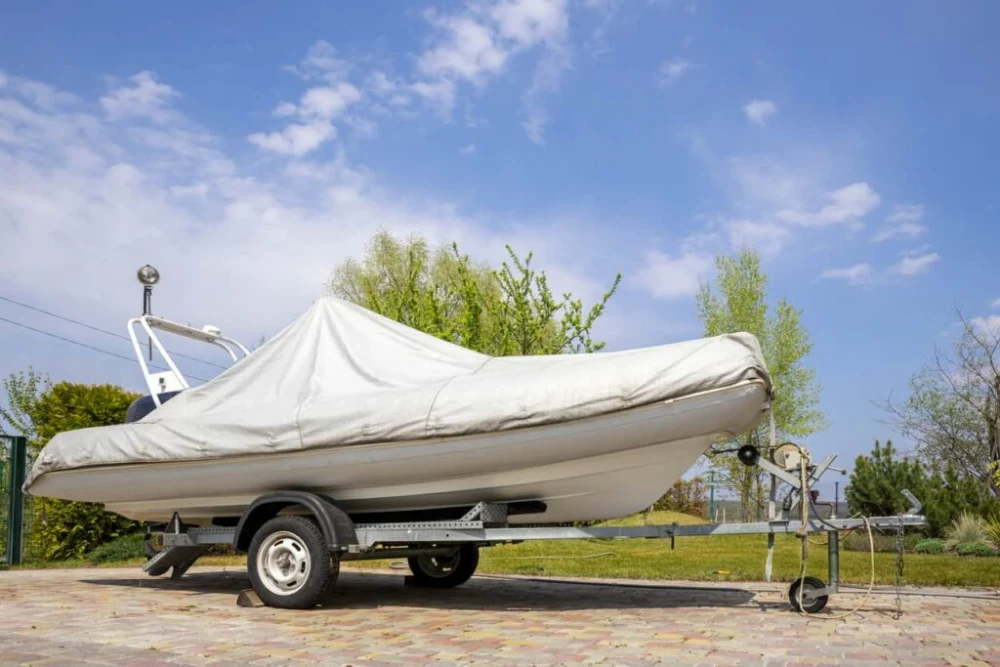 Self storage is, in many ways, the most balanced of your options. It might not be quite as conveniently located as marina storage (though it can get pretty close if the facility is not too far from the water), and it might not be free like storing a boat at home, but what you get in exchange is an option that covers all your bases at an affordable rate.
Whether parking your boat in a large self storage garage or in a parking spot, you'll get the benefit of all a facility's security features, including fences, surveillance, and personalized access. You'll also benefit from an affordable monthly cost that you can end at any time, so you aren't locked into any long-term contracts like you might be at a marina storage dock. This way, you can get great seasonal or long-term boat storage while keeping the flexibility to change boat storage plans later.
If your storage space is covered, then all the better, as it means your craft will be protected from the worst of Mother Nature and any storms that would otherwise risk damaging it at home.
Store a Boat With Storage of America
Hunting for some "summer boat storage near me" options to make your boat storage move along as efficiently as possible?
Storage of America has outdoor boat storage, covered boat storage, and indoor boat storage so you'll never be short on options. We want to cover anything you could need and provide you the support you deserve for a simple, joyful summer. If you have any questions about our process, our rental contracts, or anything else, check out just contact us. Ready to get a storage situation worked out for your boat? We have self storage locations across several states. Just choose a facility near you online to get a rental or reservation started!
More From Storage of America