Good-As-New Boat Cleaning Tips To Use This Season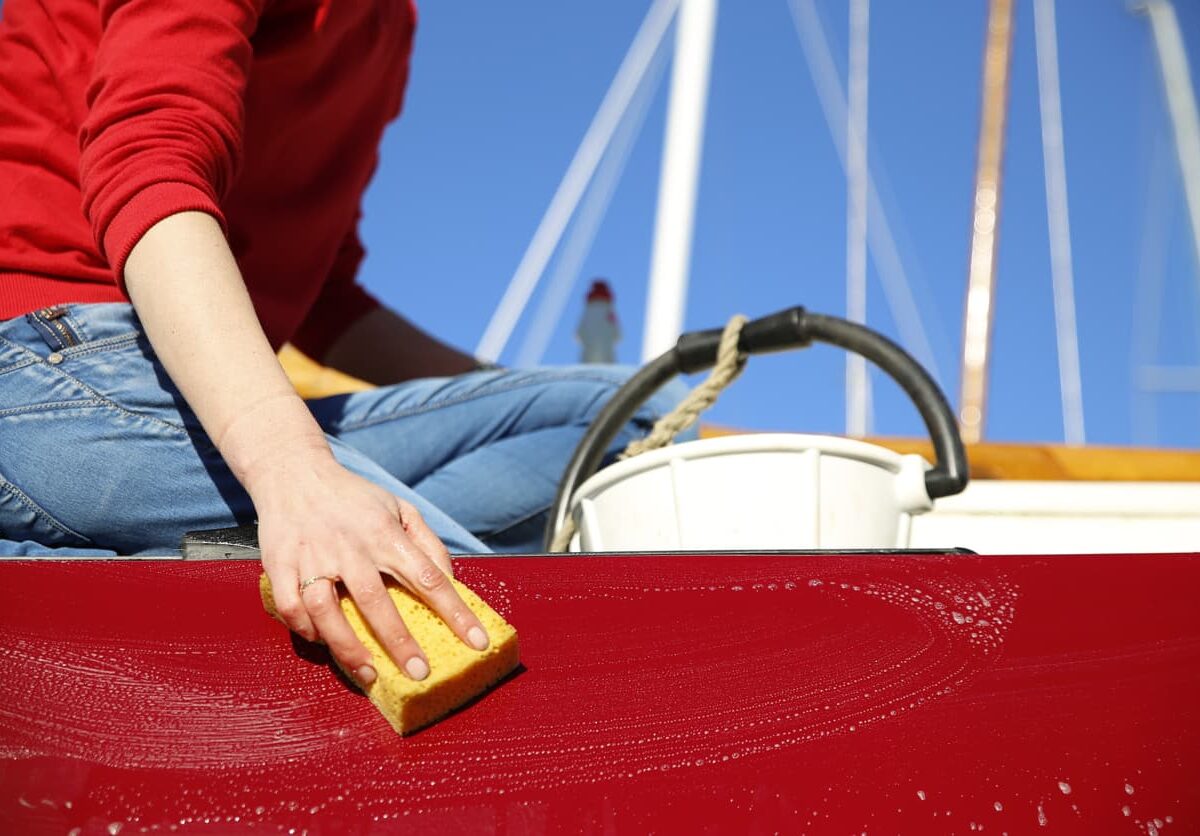 You and your boat might have started the season out in great condition, but it doesn't take much for your boat to pick up dirt and grime, both on the outside and on your seats, floors, and other surfaces. If you need some boat washing tips to help you get started with boat cleaning, look no further!
Along with some of our best tips for how to clean your boat, we have the storage space you need to find reliable boat parking solutions. Just find a Storage of America facility with boat storage near you to get a rental started online.
How To Clean a Boat
Every boat is a little bit different. Obviously, vessels of the same model will be nearly identical, but once they've been used, even these similar boats will each have slight differences in terms of care and cleaning needs. We aim to provide you evergreen knowledge and insights for how to clean your boat, with tried and true procedures that will work on most crafts on the market.
How To Clean Boat Carpet
Carpets—one of the trickiest parts of your boat to keep in good shape. There are a lot of little upkeep and maintenance details that a less-than-vigilant boat owner could miss, but with the right plan of attack, you can cover all your bases.
1. Remove Loose Debris
Let's start with one of the quicker and more obvious steps in the boat carpet cleaning process: removing dirt, crumbs, and debris. A combination of a stiff brush and vacuum cleaner will take care of this step.
2. Pre-Treat Stains
Once you've identified any stains in the carpet, pre-treat them with a powerful stain remover that is suitable for boat carpets. Alternatively, apply a mixture of mild detergent and water. You should apply by gently blotting the stained area with a clean cloth or sponge. Avoid unnecessarily scrubbing the carpet to prevent carpet fiber damage.
3. Apply a Cleaning Solution
Once pre-treated, fill a bucket with warm water and a marine-specific boat carpet cleaner. Follow the manufacturer's instructions for a proper dilution ratio. Once prepared, apply the solution in the same manner as the pre-treatment, with a punctuated pressure application that doesn't rely on friction scrubbing.
A pro tip: Test your solution in a small, inconspicuous area first, to ensure it doesn't cause any discoloration or damage. Once you're confident it's good, proceed to clean the rest of the craft.
4. Help It Dry
Once the solution has had a chance to soak, remove excess water with a wet-dry vacuum or absorbent towels. Avoid leaving the carpet excessively wet after your boat washing, as you'll probably find yourself with an unpleasant case of mildew growth. Afterward, let the carpet dry completely before storing the boat. Use fans to facilitate the drying process if necessary.
How To Clean Boat Seats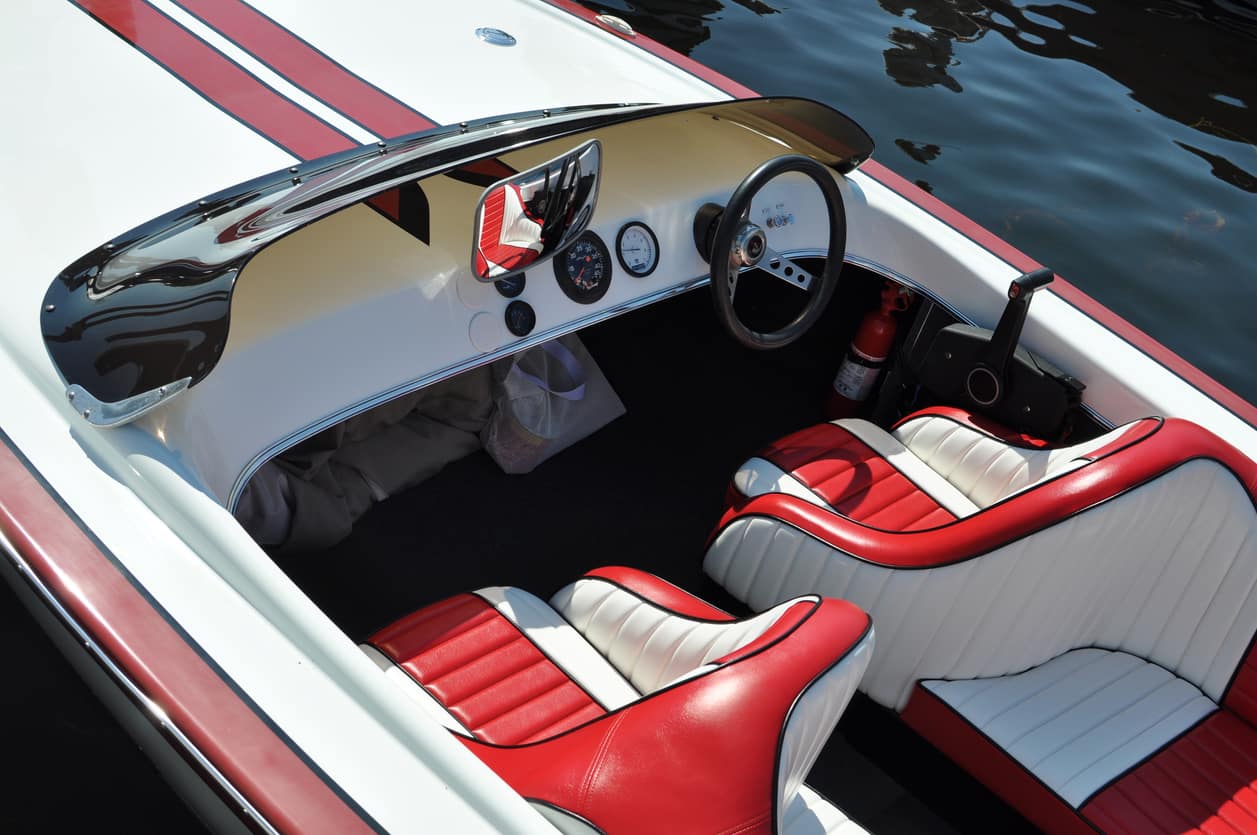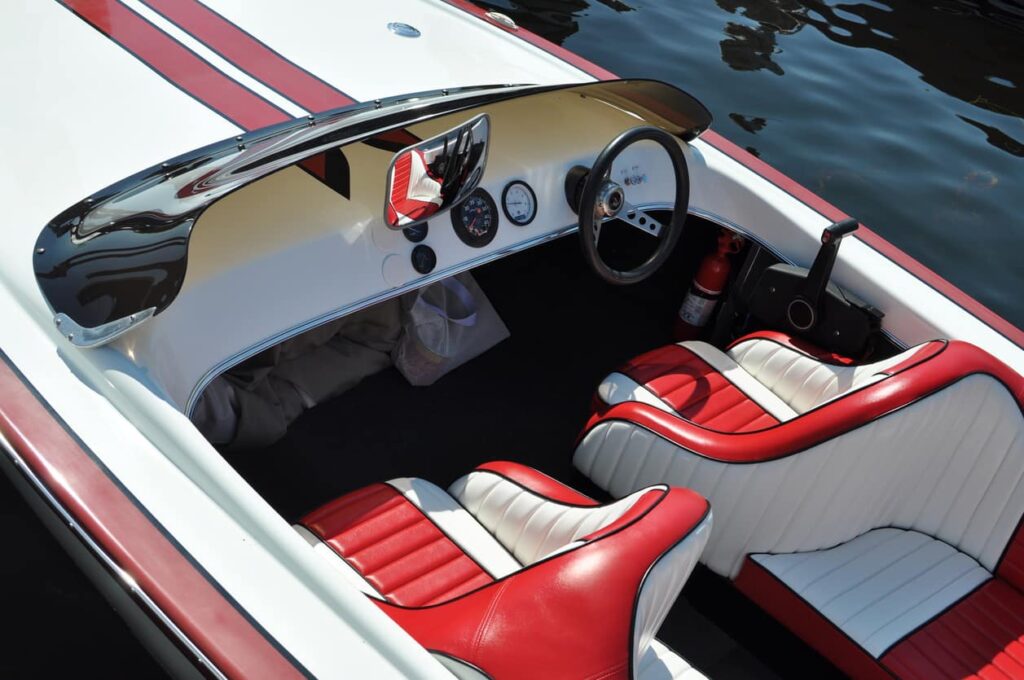 Cleaning boat seats is not too different from cleaning the carpet, it just requires a different type of cleaning solution. There are only a couple of other things we'd be remiss not to mention.
Depending on the material of the seats, how you clean them will change. For vinyl seats, use a mixture of mild soap or a vinyl cleaner diluted with water. For fabric seats, use a mild detergent with water or a fabric cleaner. Like with the carpet, make sure you spot-check first to make sure your solution doesn't mess with the coloration, then set to work.
Dip a soft brush, sponge, or microfiber cloth into your chosen cleaning solution and gently scrub the seats (whether you scrub or dab is variable—consult your user guide). Work small sections at a time, focusing on stains, and avoid using any abrasive materials or brushes that could damage the seats.
When you're done, wipe down the seats with a damp cloth to eliminate excess soap or cleaning solution and let them air dry.
Other Great Boat Washing and Cleaning Tips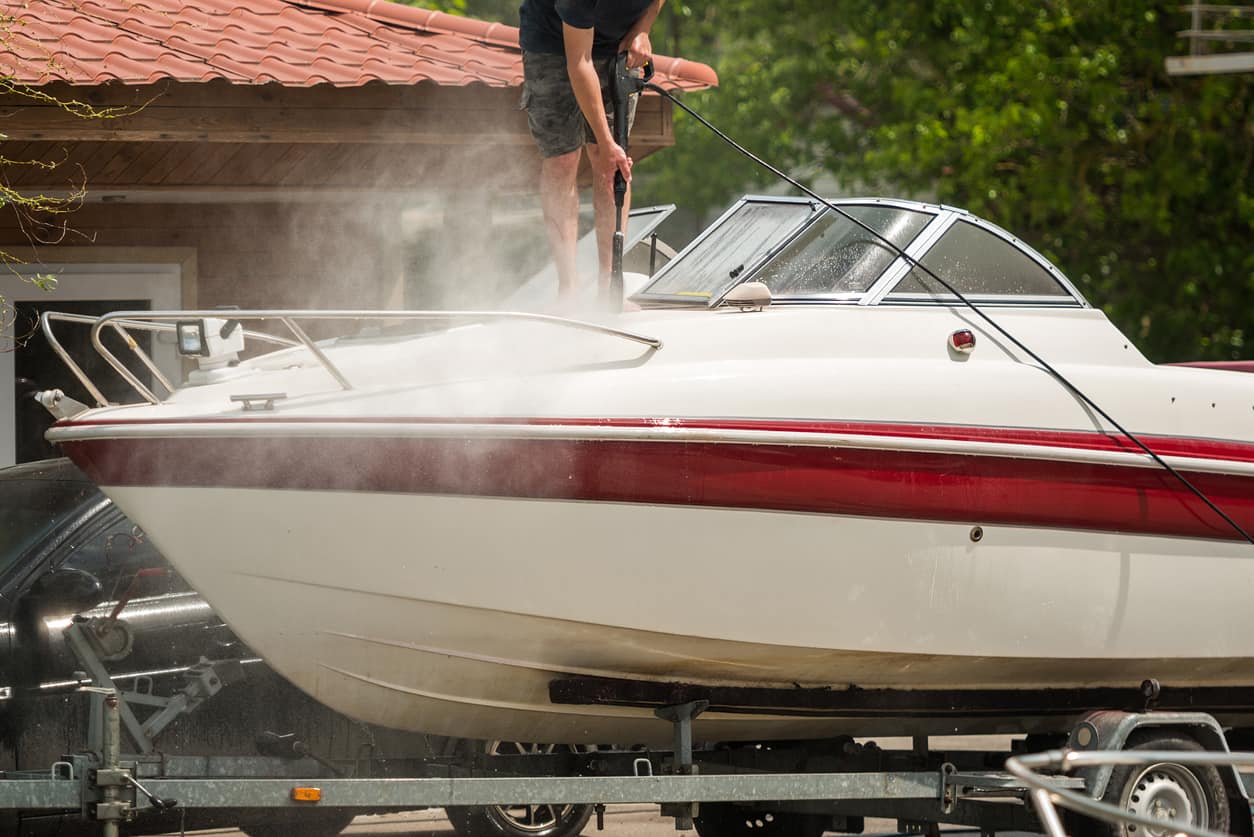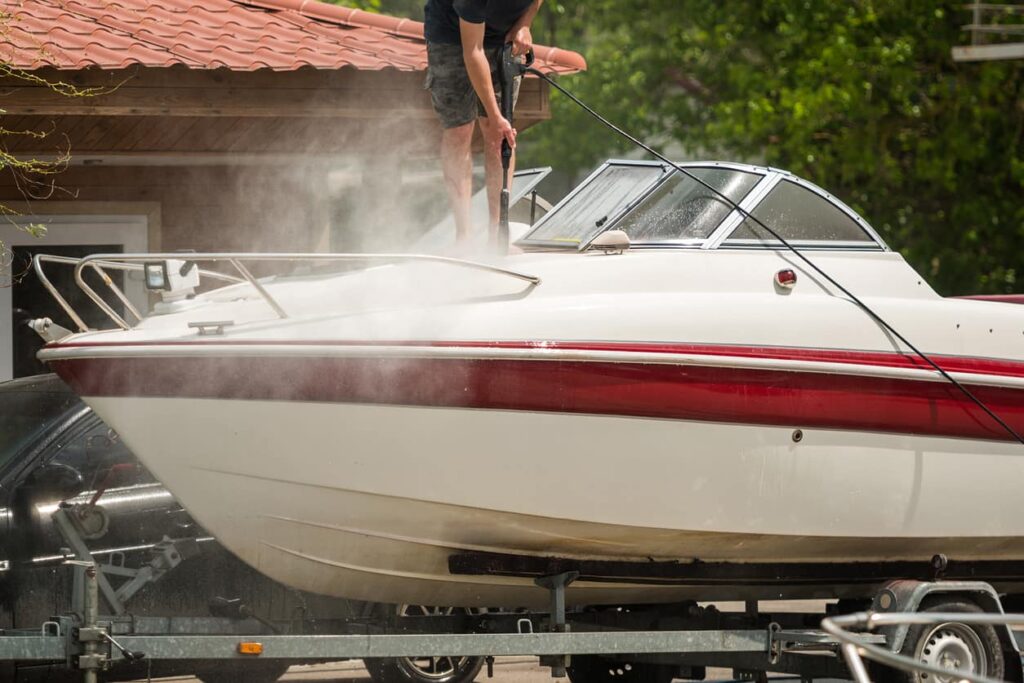 We wanted to focus on carpet and seating because they are central to your experience while on the boat, but of course there are several other boat-washing techniques and ideas to add to your repertoire for a full cleaning experience:
Use a hose to knock off any dried or excess debris on the hull.
A boat's health is only as good as its oil. Change out the oil and filter.
You don't need to drain the fuel, but you should stabilize it with a fuel stabilizer before storing your boat for long periods, otherwise you risk compromising the engine over time.
Drain all the plumbing and waste systems.
Repair all damages to the deck, hull, and other structural aspects of the craft. Better now than later.
Lubricate all moving parts to ensure smooth operation and prevent corrosion over time.
Armor your boat in a premium, breathable boat cover between uses. All your boat washing means nothing if mother nature can jump inside whenever she wants.
We recommend using a boat cover no matter what, but especially if you intend to leave it exposed to the elements. If you're struggling to find a place to park your boat, you can rent affordable boat storage at your local self storage facility.
Find a Great Place for Your Boat With Storage of America
Storage of America wants you to spend this offseason fretting as little as possible over the safety and cleanliness of your vessel. We understand your boat is important to you, and it's important to us as well.
Our storage facilities come equipped with comprehensive security measures like 24/7 surveillance and exclusive gate access, while also providing autopay options for greater ease and convenience. Additionally, many of our facilities offer advanced features, like drive-up units for quick access, climate-controlled storage spaces, and boat storage designed to keep your craft clean and secure in the months ahead.
To see all of our self storage options in your area, just find a Storage of America location near you. If you run into storage questions, don't hesitate to check out our FAQ page or reach out to us.
More From Storage of America