How Self Storage Can Help While Moving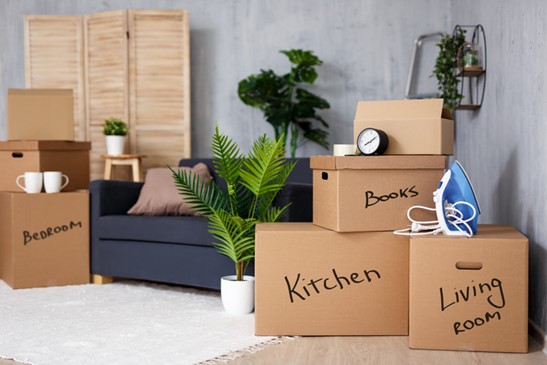 While moving can be stressful, there are ways to make the process easier. Whether it's following tips to pack more efficiently, downsize your items, or declutter your space, self storage can help in every situation.
Utilizing self storage in your moving process can be instrumental in freeing up space and organizing your belongings. Plus, freeing up space in your home can also free up space in your mind and take some of the stress out of your big move! Get started with a storage rental at a Storage of America near you today!
4 Benefits of Using Self Storage While Moving
From house showings to packing and transporting moving boxes, moving can be overwhelming. We're here to simplify the hassle of moving, allowing you to enjoy your new home. Whether you're moving across the country or across the street, you'll find these tips for moving and self storage helpful.
While you can't completely avoid surprises during the moving process, staying organized and having a plan can certainly help. Follow these steps to make packing, moving, and unpacking easier.
1. You will reduce clutter when showing your house to potential buyers.
Believe it or not, clutter can make your home appear smaller than it actually is. Having excessive furniture, décor, or personal items in one area can make it harder for potential buyers to picture themselves living there. In addition to appealing to potential buyers, a clean, organized space can visually expand it. Moving spare furniture or items to a storage unit as you host showings at your home can help you sell it faster.
2. You can move at your own pace.
Moving at your own pace is a great benefit of investing in a self storage unit. Instead of undertaking the huge task of moving everything in one day, you can slowly transfer moving boxes to your storage unit, and allow more space to continue packing. Additionally, you can save some boxes to unpack later on after moving.
3. Avoid unexpected issues on moving day.
No matter how much you plan ahead, there is a possibility for unexpected things to pop up on the day of your move. A readily available self storage unit can give you peace of mind if you need a backup place to put your items.
Items are too large for the staircase: Say you have an oversized couch that you had planned to put in the basement of your new home. Maybe the stairwell is too narrow, and the couch can't fit. No need to panic—you can store items in your storage unit until you have time to troubleshoot.
Overflow of items: Maybe you underestimated how many things you have or how much storage space you'd have at your new home. Don't sweat it. Storage units are ideal for storing seasonal décor, spare clothing, furniture, documentation, and more.
There is a problem with your mortgage funding: Occasionally, homebuyers experience an unexpected hiccup with the mortgage funding for their new home. If this happens, you have a safe place to store your belongings while you get everything figured out.
Closing day: Often, there can be unexpected errors on the day of closing a house. This could be due to issues related to inspection, finances, or mortgage approvals.
4. You are free to renovate your (new or old) property without shuffling items around.
Renovations can take a long time, regardless of what type they are, or if you're tackling your renovation in the winter or summertime. Even if the project contractor gives you a timeline, you might have setbacks. With a self storage unit, you can securely store furniture, clothing, or other items in a clean, safe environment. Plus, freeing up space in your home allows you to focus on renovations. Avoid accidentally spilling paint on your new couch and find a storage unit to temporarily keep your things.
Take the Stress Out of Moving With Storage of America
Moving doesn't have to be a stressful experience. Plan ahead and stay organized by renting a storage unit at Storage of America! We offer a wide selection of storage units, ranging in size from 5×5 to 10×30 to accommodate your storage needs. Unsure what storage unit size would be the right fit? Our size guide can help narrow down the options.
Additionally, when you rent with us, you can take advantage of advanced storage features. We offer modern security features, extended access hours, and a variety of storage types to provide the most pleasant storage experience. Find a Storage of America location near you to get started!
More From Storage of America