What To Do When Your Winter Motorcycle Storage Plan Isn't Working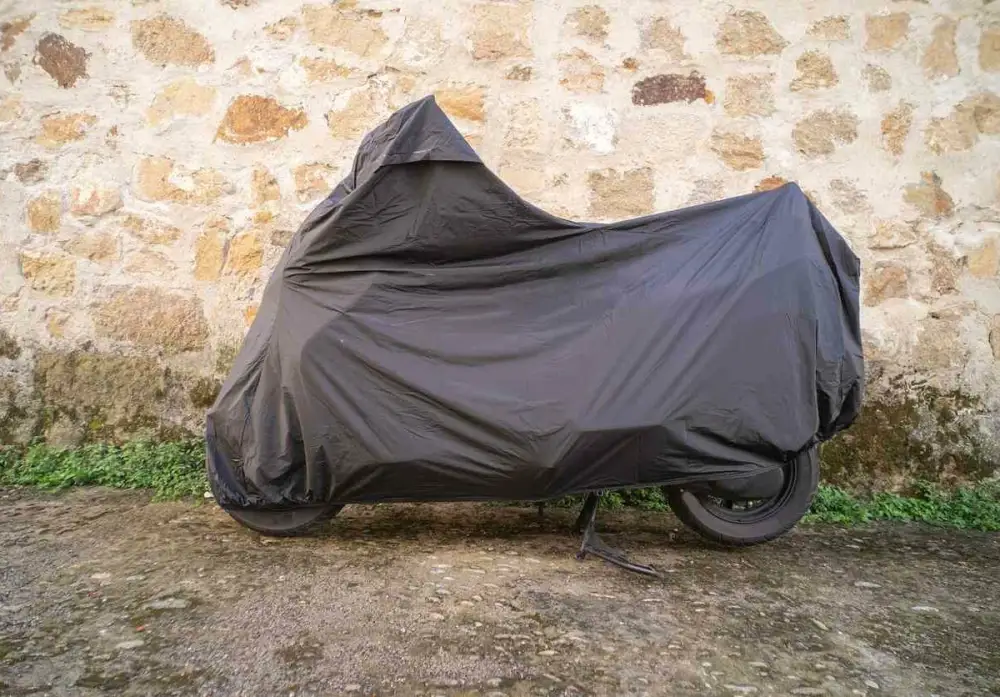 There are few feelings in the world like cruising down an open highway with wind blowing through your hair. If you're the owner of a motorcycle, there's a good chance this is how you spend many of your warm summer days. However, what do you do when frigid temperatures move in and it's too cold to take your bike out for a spin? Properly storing your motorcycle is essential to maintaining its condition for many summer days to come.
This helpful guide from the experts at Storage of America explores tips for storing your motorcycle, especially if your at-home solution isn't working out how you imagined.
How To Select Your Storage Solution
Keeping your motorcycle at home in your garage when not in use may seem like a convenient option. However, if you're not riding it during the winter months, it can easily become a nuisance. Navigating around additional items and giving up precious storage space can become frustrating over time, especially with the extra care you have to take not to ding or dent it.
When considering other options, you may wonder whether you can store a motorcycle in a storage unit. The answer is yes! With the proper steps, you can store a motorcycle in a storage unit during winter months or for the entire year.
Choosing the Best Storage Space for Your Motorcycle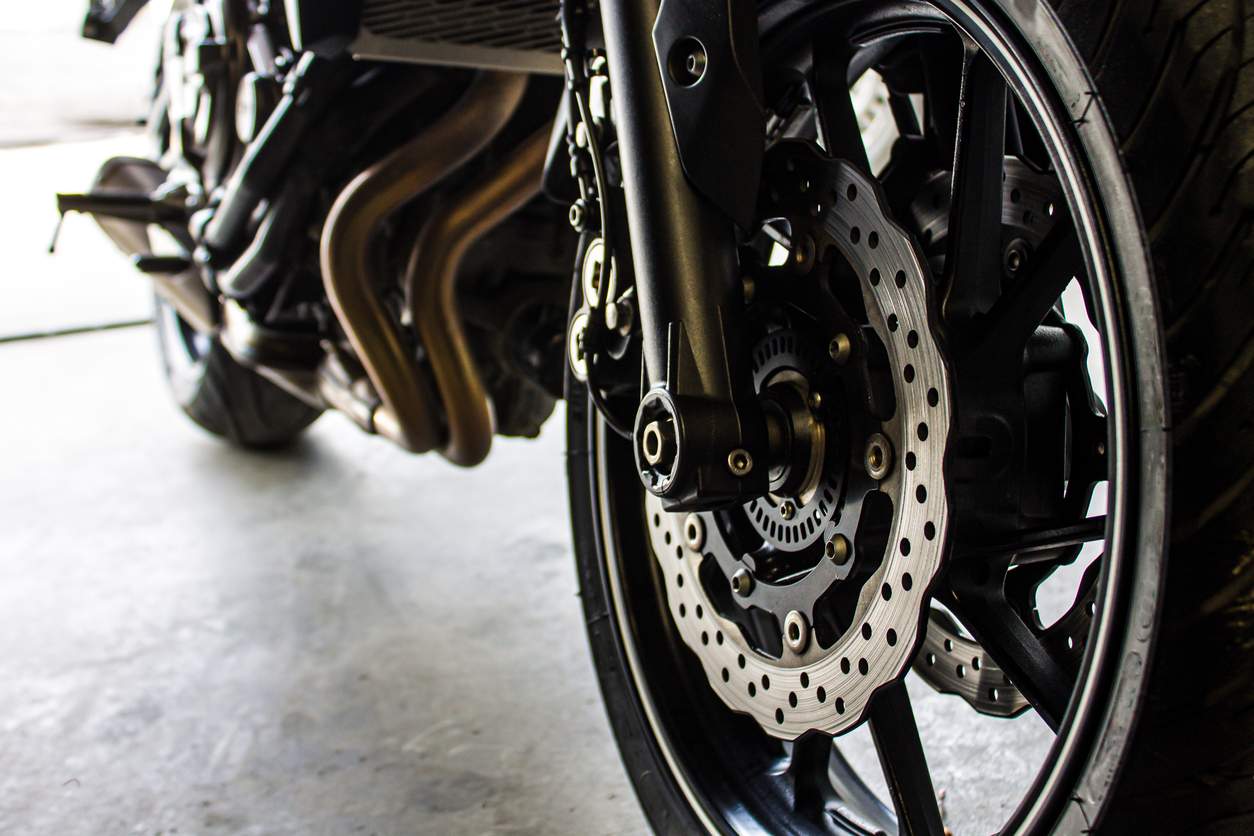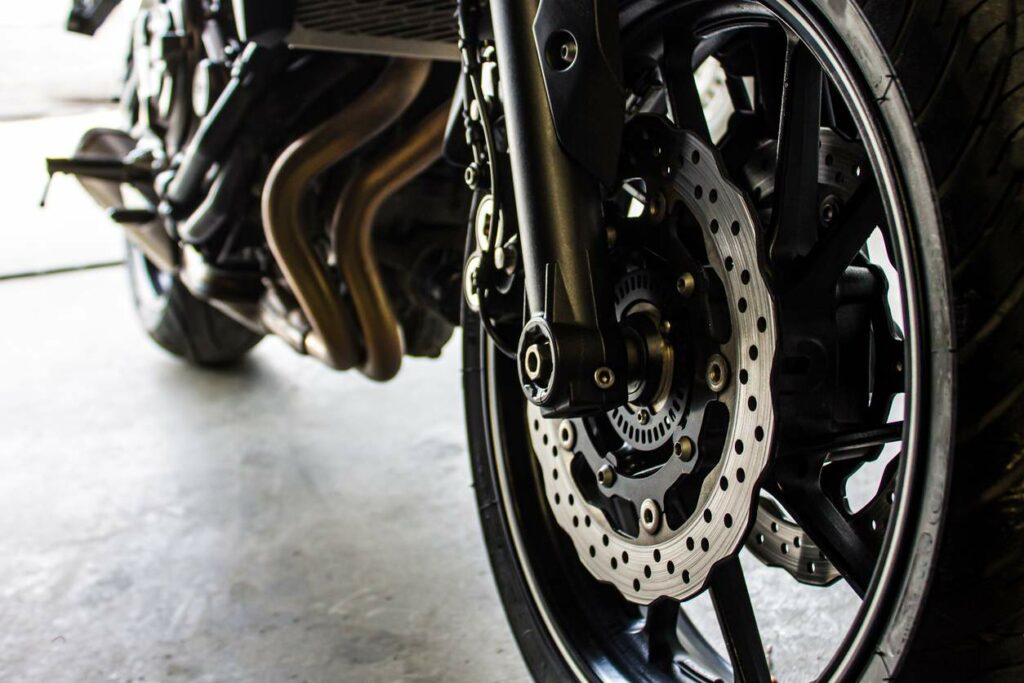 Self storage units are available in a variety of sizes ranging from small 5×5 units that can hold just a few boxes of items to large 10×20 units that are suitable for storing the contents of an entire multifamily home. Selecting the right storage for you depends on what you're planning to keep inside of it.
You're probably asking yourself, what size storage unit do I need to store my motorcycle? Most motorcycles can fit comfortably in a 5×10 storage unit, leaving room for your helmet, riding boots, and saddle bag too. If you're sharing the unit with your riding buddy and need to add a second motorcycle or additional gear, you will want to upgrade to a 10×10 or a 10×15 storage unit. Most storage units are available to rent on a month-to-month basis, which means you can rent a space for exactly the amount of time you need without being locked into a long-term lease. If you decide to rent a unit for longer than just the offseason, consider utilizing it to help organize your apartment, during spring cleaning, or for storing seasonal items to free up space in your home.
For assistance in choosing a unit that works best for your needs, explore our storage unit size guide or connect with a storage professional for more information about common unit sizes.
Preparing Your Motorcycle for Storage
No matter what space you're using for winter motorcycle storage, there are a few steps you'll want to follow to make sure your bike is ready to roll when the weather starts to warm.
Give Your Bike a Thorough Cleaning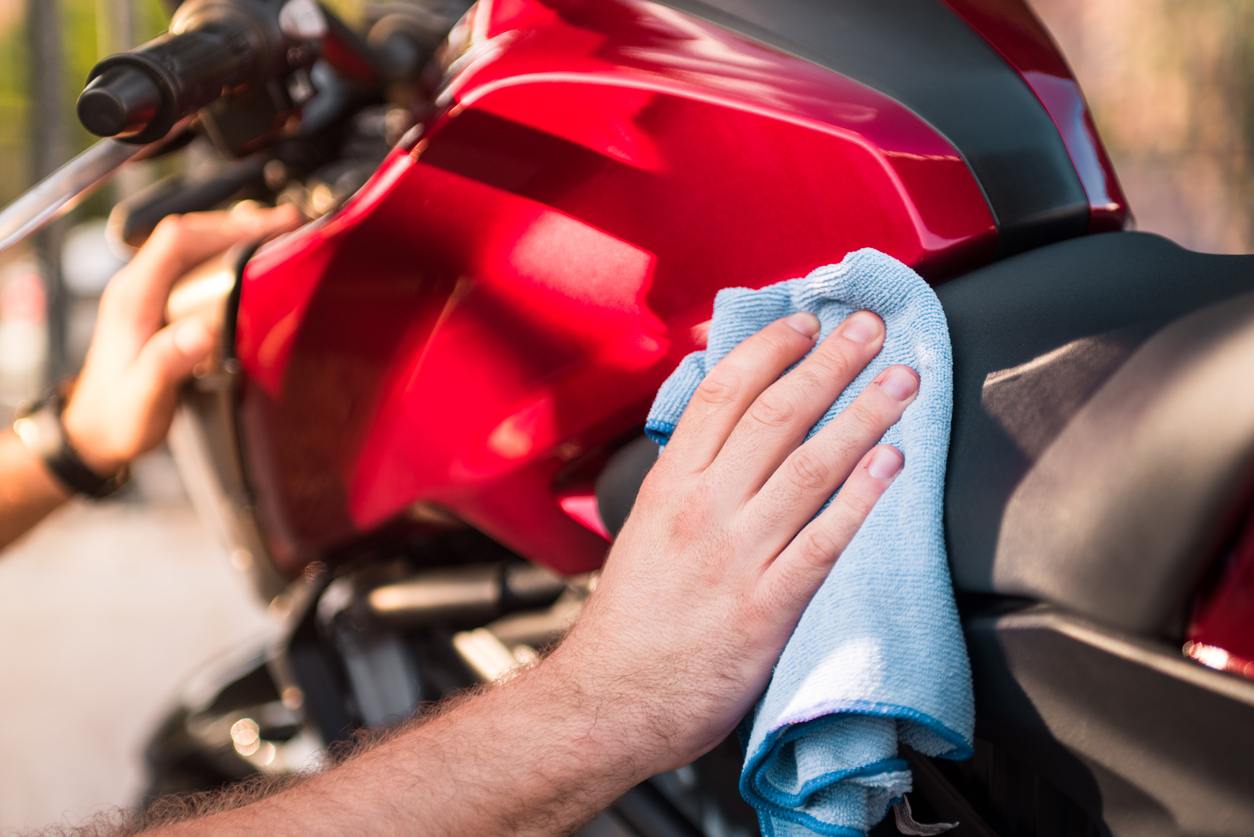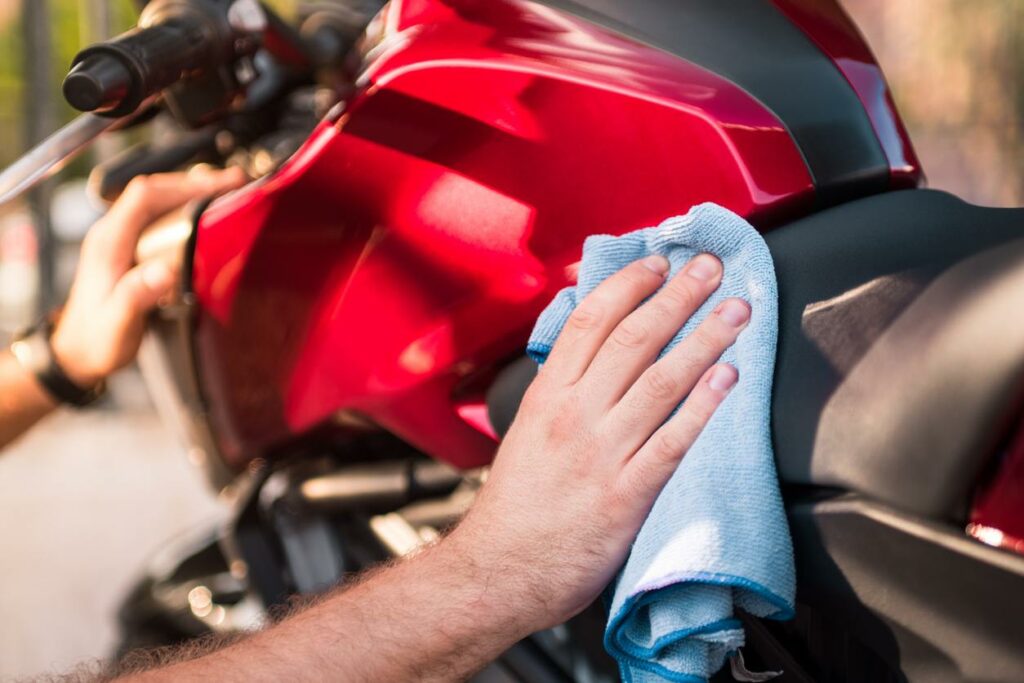 Your bike has the potential to build up dust, dirt, and even bug splatter on the windshield during your warm-weather rides. Letting these spots sit for an extended period of time can corrode the finish and ruin the paint. Take time to wash your motorcycle and allow it to dry completely so there is no moisture left on the surface. Once dry, add a coat of wax as a barrier against moisture and rust. You can also use a corrosion inhibitor on plastic, metal, and rubber surfaces to fight against oxidation while you're away.
Cover It Up
Once your bike is clean and prepped for storage, you'll want to choose a sturdy motorcycle cover to help protect against dust, moisture, and corrosion. If you store your bike outside during the summer, it's susceptible to UV damage, mud, and moisture from rain and fog. Invest in a high-quality cover to protect your motorcycle year-round. Choosing a premium cover may be more expensive, but the cost is much less than what you will need to spend repairing any damage caused by the elements.
Focus on the Tires
The best way to store your motorcycle is on a stand with all of the weight off the tires. This will help prevent uneven tire wear and save you from discovering your motorcycle has a flat tire when you arrive to pick it back up. Invest in a sturdy motorcycle stand. If that isn't an option, hoist the bike up on the front tire to alleviate weight in the back tire.
Create Space in Your Garage With Storage of America
Skip the garage and shed and instead choose a self storage unit to protect your motorcycle during the winter or anytime it's not in use. Select a storage unit with drive-up access to make moving in and out as simple as possible, or a climate-controlled unit for an additional layer of protection against extreme hot and cold temperatures. If you're storing your motorcycle in a self storage unit for the first time, you'll want to contact the manager at your nearest storage facility for specific information on what you'll need to bring on move-in day, such as your renter's insurance policy, proof of ownership, registration, or motorcycle insurance policy. Take control of the space in your home, garage, business, and beyond. Find a Storage of America storage facility near you and get started on your storage journey today!
More From Storage of America